covid: 2,696 Covid cases in Maharashtra; doctor says count may not fall much now | Mumbai News
MUMBAI: The daily Covid-19 count has been fluctuating between 2,400 and 3,200 for seven days, pointing to a lull between the peaks in the ongoing SARS2 pandemic.
On Saturday, Maharashtra registered 2,696 cases, including 405 in Mumbai, and 49 deaths, including six in Mumbai. During the second wave's peak in April, over 65,000 cases were registered in the state on some days.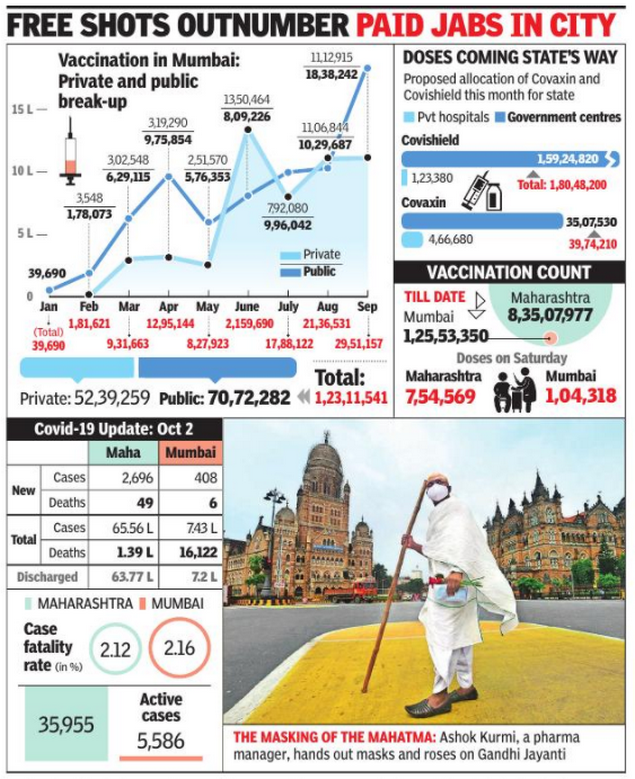 The lowest daily count during the earlier lull between the first two Covid-19 waves (peaks in September 2020 and April) was 1,842 on January 25, and there were another half a dozen days when the caseload was below 2,000. "With a population of 120 million, one cannot expect daily cases to go down much further," said state surveillance officer Dr Pradeep Awate.
Experts have maintained that Covid-19 is unlikely to disappear completely in the near future and people may have to wear masks till the first half of 2022 if not the entire year. However, Covid could transition into an endemic disease such as malaria or dengue that is present throughout the year with seasonal and regional peaks. "At present, it may be premature to talk about Covid-19 turning endemic as many countries have or are in the process of witnessing the third wave," said Dr Awate. However, he said the chances of a third wave in Maharashtra appear to be low at the moment.
The reasons for this optimism range from the Delta variant to herd immunity. The third wave in most countries has been caused by the Delta variant, which was responsible for the second wave in India; the Delta variant was first identified in Vidarbha region of Maharashtra.
"Many sero-surveys have shown that 60% to 70% of the population have been exposed to the SARS-CoV-2 virus already. This is close to herd immunity," said Dr Awate. Moreover, close to 50% of the state's population has received at least the first dose of the anti-Covid vaccine and 20% are fully vaccinated.
Officials are worried about the emergence of another Delta-like variant that could "escape" existing antibodies. "At the height of the second wave, the state had 7 lakh active cases. We are preparing for the third wave, expecting it to be 1.5 times worse than the second. We want to prepare the infrastructure, oxygen supply and medicines for 10.5 lakh active cases," said an official.


Images are for reference only.Images and contents gathered automatic from google or 3rd party sources.All rights on the images and contents are with their original owners.
Aggregated From –